11. The Delhi Durbar Tiara

Nudging closer now, maybe, to the beginnings of this tiara. My current conclusions are below after three portraits A. B. and C. which are all by John Thomson (1837-1921) but dated 1910, 1911, or 1912 depending on where we find these portraits.

They show Queen Mary wearing the Durbar tiara, mounted with Cullinans III and IV, and "The Smaller Cullinan Diamond Pendant" which was one of the gifts to her from South Africe in June 1910.  Tick!

Portraits A. B. and C. are almost certainly from the one sitting because the jewels and gown are identical and only the backgrounds differ. Queen Mary wears insignia for the Garter which she got in 1910. Tick!

A. Credit: Wellcome Library, London. "Queen Mary (May of Teck) standing, wearing a tiara and holding a folded fan." Photograph by John Thomson, ca 1910. Published: Thomson, London (141 New Bond St. W.) [1910?]
I asked Wellcome about the year 1910 and was told it was "because he was at that address at that time" referring to the photographer.




B. Credit: Illustrated London News, 20 May 1911. At the foot it says "Photograph by Thomson." This is the full length pic of the first I posted in message #2.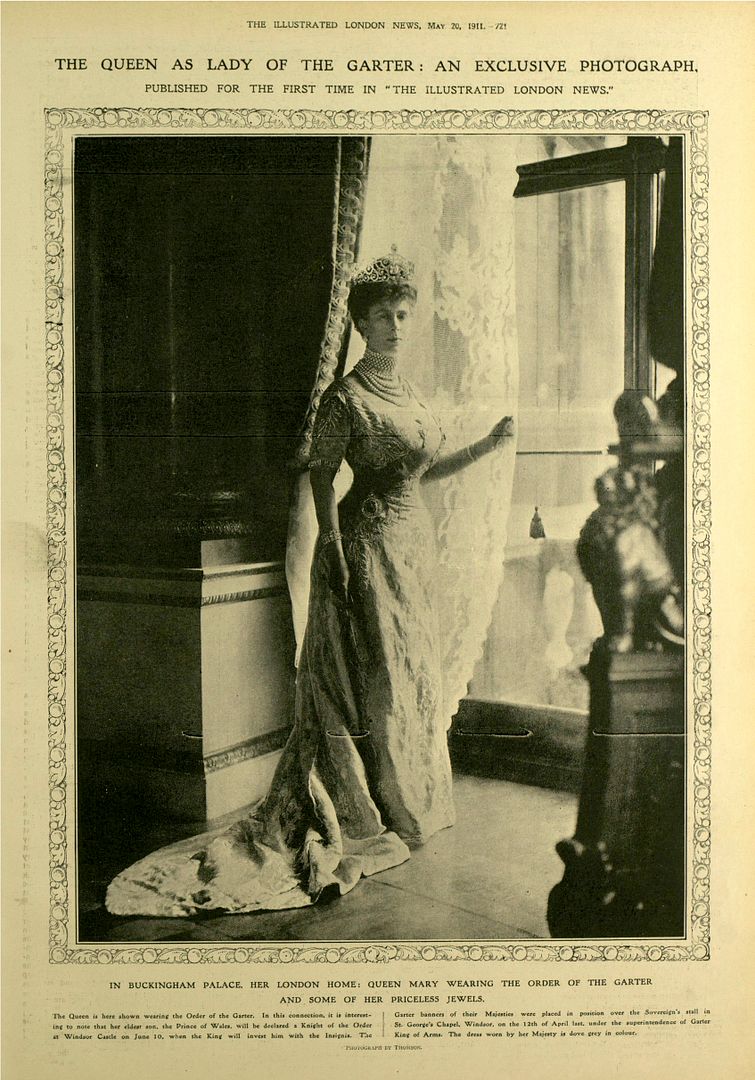 C. Credit: The Queen's Diamonds by Hugh Roberts, page 180, "Queen Mary photographed by Thomson in 1912…"    RCIN 2306168 (page 316).
Here is the link to to RCIN 2306168 instead of posting the portrait yet again.

More and more I feel convinced that  -
(a) we are seeing the original tiara here
(b) it was created for Cullinans III and IV and
(c) quite possibly made in 1910.

Perhaps it was made by Carringtons rather than Garrards. Only a supposition at t
…